This set comes with everything you need to start making your own wax seals.
which creates intricate details and leaves clean and beautiful marks.
【Set Includes】
3 X removable stamp.
1X exquisite gift box.
1X Diamond handle.
2X Fire paint wax grains (about 45 grains per bottle)
1X Fire lacquer spoon with wooden handle.
1X Small round wax.
1X Gold lacquer pen.can be easily applied to many occasions.
【Unique Gift】It will be an unique creative romantic gift for your lover, friends and family on Valentine's Day, Mother's day, Christmas Day, Birthday, Thanksgiving Day, etc.
【Wide Application】This wax seal kit can be used to seal many different kinds of invitation or gift package such as envelope, wedding invitations,  perfume package, parcels, etc. to make a great look and sense to your gift. Also use to avoid to opening furtively for important documents and some private information.
【
Simple Set
】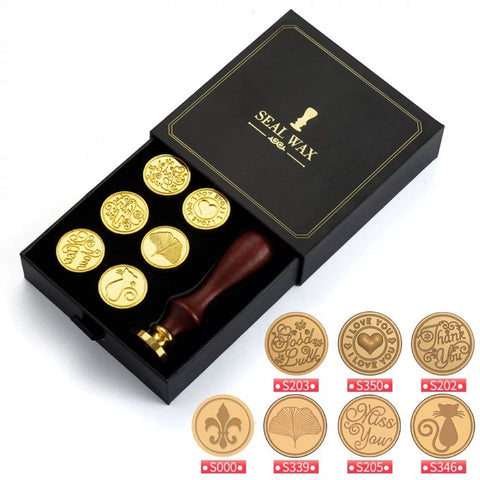 【
Set Includes】

1 X Wooden Handle.
7X Removable Stamp.
1X Exquisite Gift Box.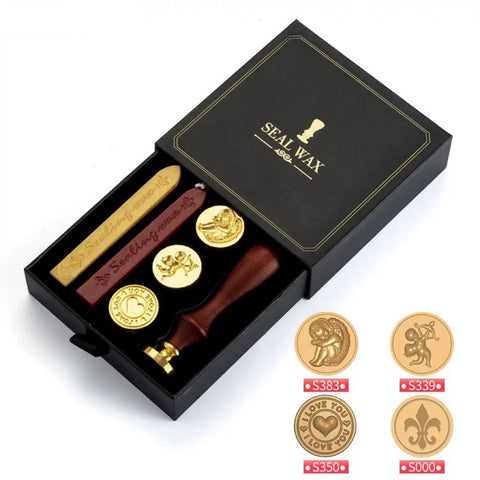 【
Set Includes】

4 X Removable Stamp.
1X Exquisite Gift Box.
1X Handle.
2X Fire Paint Wax.
【
Usage Notes
】

1. Light the candle and cover with wax seal warme.
2. Put several wax beads into the spoon to melt.
3. Wait for the sealing wax to melt into liquid.
4. Pour the melted wax into a perfect circle in order to cover the whole stamp.
5. Print your stamp on the wax and hold for a new seconds.
6. Use the metallic pen to decorate the pattern.